EVERGLADES CITY TO ST. AUGUSTINE FLORIDA
August 18-21, 2008
On Friday August 15, 2008 the NHC started issuing advisories on the sixth tropical storm (Fay) of the season. It was named as it was moving inland over the island of Hispaniola. Fay slowly made her way across the island actually strengthening over land from 40mph to 45mph which should have been a sign of things to come. The center of circulation held together for the most part and made it into the Caribbean with sites set on Cuba where she made landfall with 50mph winds. By this time, Mark and I were in Naples waiting for our other member Mike Watkins to arrive from the east coast of Florida. Once he met up with us and we had lunch we headed south to Everglades City where Mark, Mike and James set up a storm case for Hurricane Wilma in 2005. There we set up the data equipment to gather the vitals on Fay (wind, rain, pressure) as she moved inland. We strapped the anemometer and a camera for streaming to a ladder that went to the roof of the Embarq Central Office building and set the other equipment on the deck of the building. From there we met up with friend Tim Millar of the Cyclone Research Group and headed to Marco Island where we placed another storm case and camera. Of course the media was there to cover Fay and did an interview with Mark after we arrived. Later in the evening as Fay started to make her way inland, we started noticing lightning and hearing the rumble of thunder in the distance. Winds were gusting to the mid 30's or so and rain was on the increase. By 3am, Fay was inching closer with winds of 60mph and the developing core was moving in on Marco Island. We started getting sustained winds in the 40's with gusts to 60mph or so and we started seeing power flashes in the surrounding area. Streets on Marco Island were flooded from the heavy rainfall and traveling without an SUV was not an option really. By sunrise the center of Fay was inland and the wind and rain started to decrease. The flooded roadways quickly receded and we headed to Naples to get some sleep.
Tim decided to follow Fay inland and get some wind readings and relay them to the NHC as she headed for the east coast of Florida. Mark and I got a few hours of sleep as Mike headed home near Miami. After we getting up and seeing the incredible structure of Fay inland and seeing some of the reports that Tim sent in, we headed east to get back into the center of Fay. Along the way we saw some real flooding problems from rainfall as Fay had slowed a bit in forward speed causing longer periods of heavy rains. We saw a cow grazing in a field in water almost up to his neck along Hwy 441. Of course there was dryer land near by with other cows grazing there but for some reason this one cow decided he wanted to soak while eating. Photo below. He continued to head east where we got ahead of Fays northern eyewall, or whatever you want to call it, near Yeehaw Junction where we recorded sustained winds in the mid 30's with a gust to 50mph. It was not to long after that Fay started to lose her structure and inner core and the center or eye began to open up. We headed back to Naples to get some sleep before heading to Tampa to Bay News 9 for an interview on Wednesday afternoon.
Fay was stalled just offshore Wednesday near Daytona as we left Tampa. Mark and I were going to go to Ormond Beach and Daytona Beach to shoot some of the wave action and see what was going on around the area and possibly start heading home. As we drove eastward I was looking at the recon info coming in and noticed that the pressure was down to 993mbs and that they were finding winds near 60mph or so at the surface. The NHC reflected that in the 8pm advisory and we had made up our minds that we were staying for Fays next landfall. We worked the beach from Ormond to Flagler Beach and Palm Coast in the overnight hours taking spot wind readings and sending those to the NHC. All along A1A during the night power flashes could be seen in all directions. Aric Dunn and Steve Oliver from IPR (Internet Partnership Radio) was in the area and followed us along the beach taking our wind readings and reporting them to their audience on IPR. We were along Hwy A1A between Ormond Beach and Flagler Beach in the early morning hours of Thursday morning when we had sustained winds in the mid to upper 40's with a gust to 65mph. Later in the morning along A1A just north of Marineland on a small bridge we had a gust to 72mph. From there we hit I-95 and headed north for North Carolina and Virginia.
Fay would later make landfall again in Florida near Flagler Beach. She would continue slowly westward towards the Florida panhandle where she would make back out over the Gulf of Mexico just briefly and make another landfall (four in all in Florida) near Carrabelle. This would be a record fourth landfall for the state. Fay's wind damage in all was minimal, however, her rainfall totals along the east coast near Melbourne would be close to 30 inches in all. That being the highest total. Nonetheless, she would dump more than 20 inches in many areas across the state on her way to Alabama and Mississippi. The NHC would write the last advisory on Fay on Saturday evening at 11pm EDT. Photos and video below.
VIDEO STILL TO COME: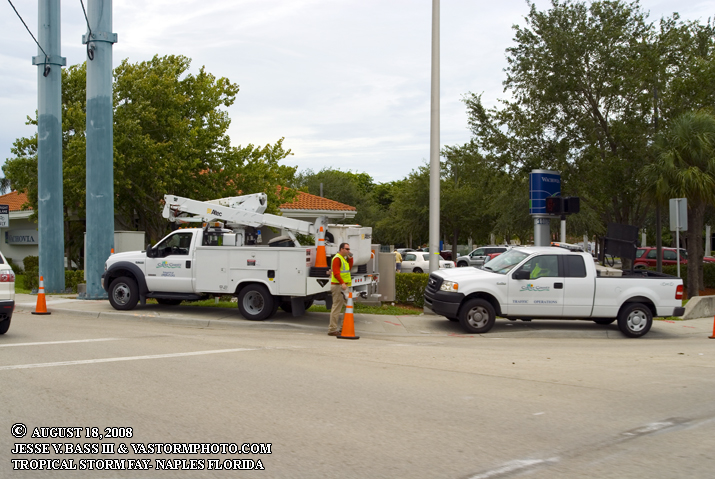 The Naples power company getting ready for Fay and what she might bring.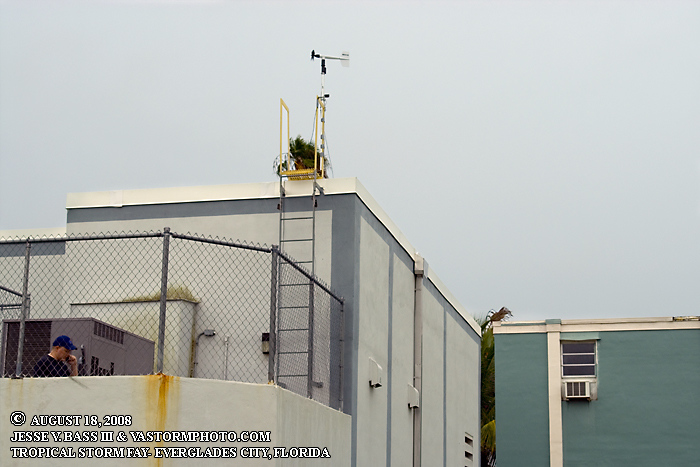 The anemometer and camera in place on the ladder of the Embarq building in Everglades City.
Another shot of the building in Everglades City.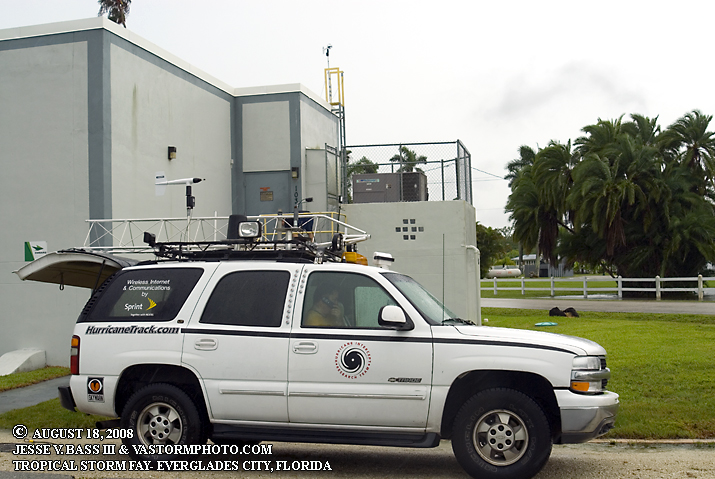 Mark in the Tahoe fielding phone calls and getting the site updated with links to the camera and data from Everglades City.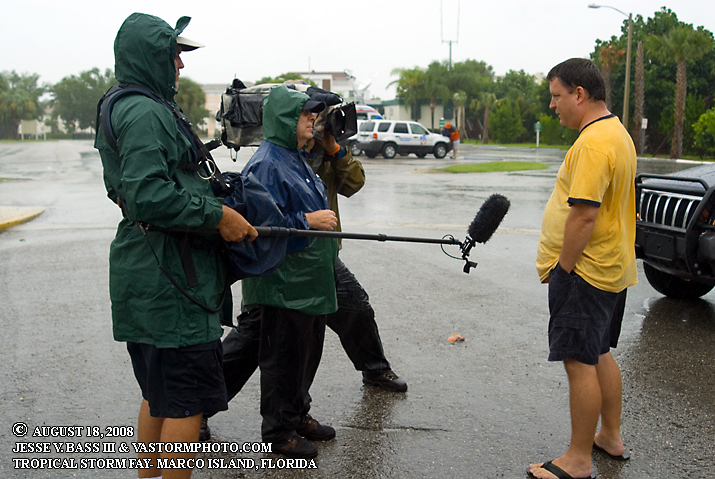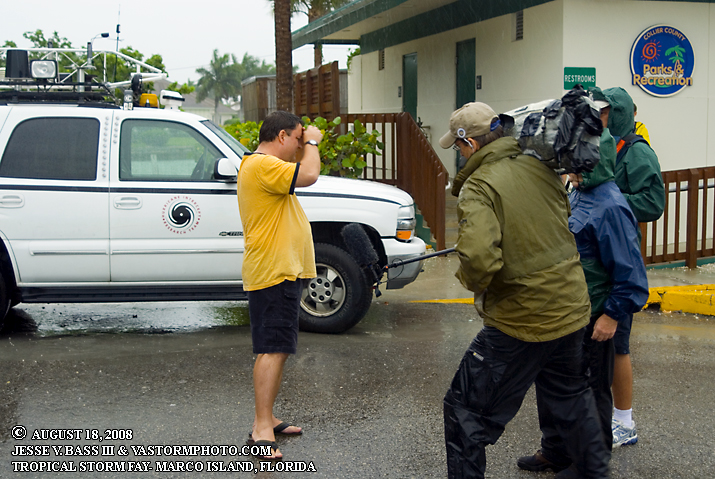 Mark doing an interview with a crew for Good Morning America on Marco Island.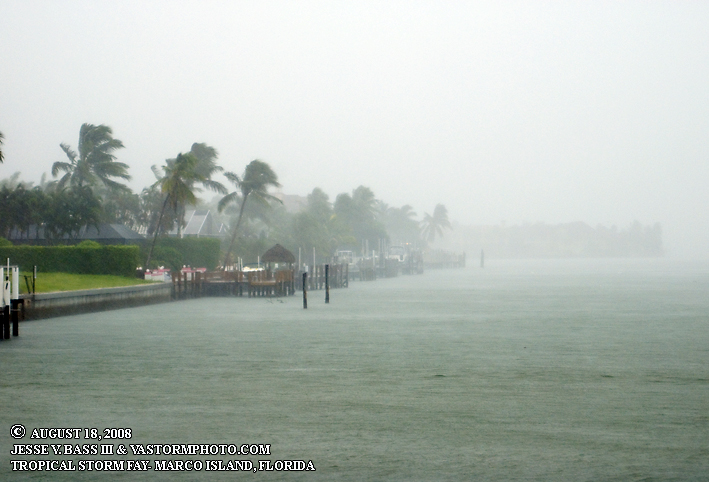 Outer band of Fay moving into Marco Island with strong winds and heavy rains.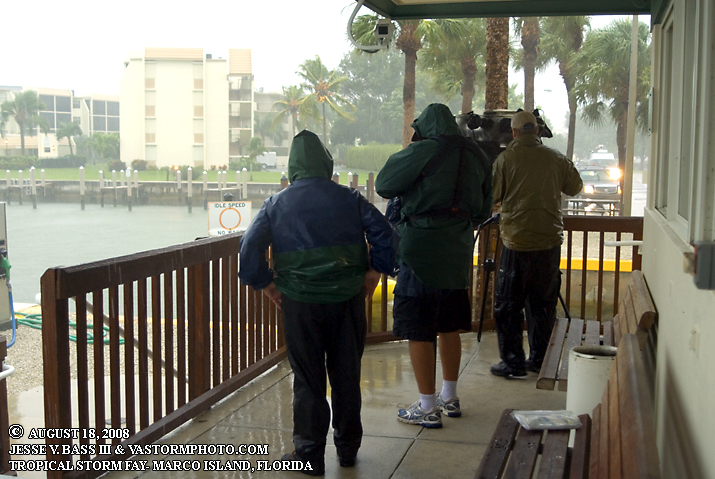 GMA crew shooting the action as the heavy rain band moved in.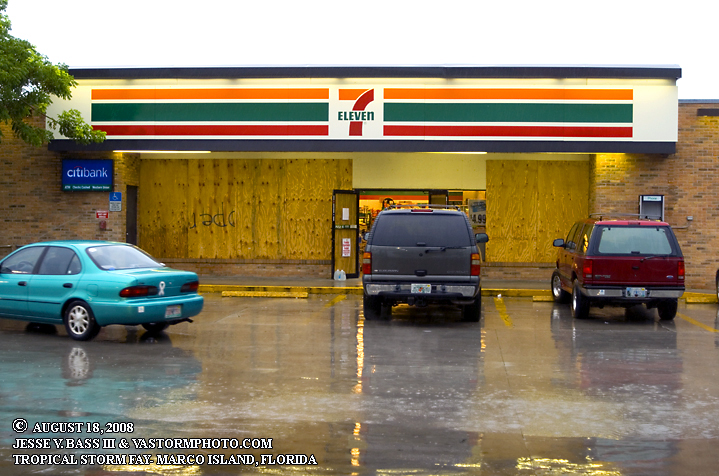 Boarded up and ready for Fay and whatever she brings to Marco Island.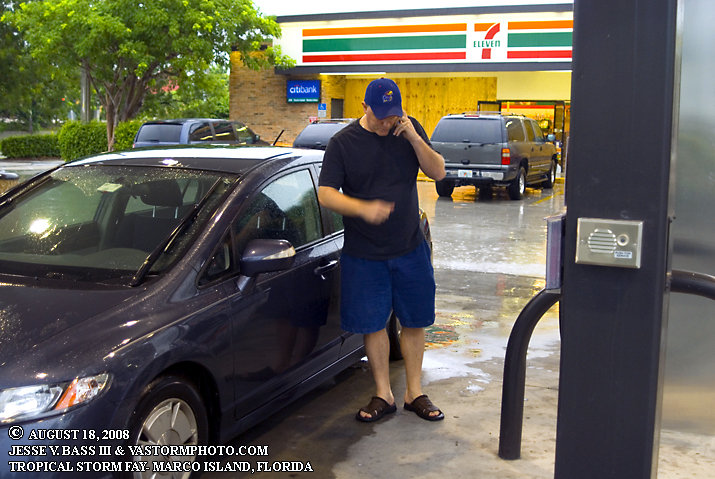 H.I.R.T. member Mike Watkins getting topping off before things shut down on Marco Island.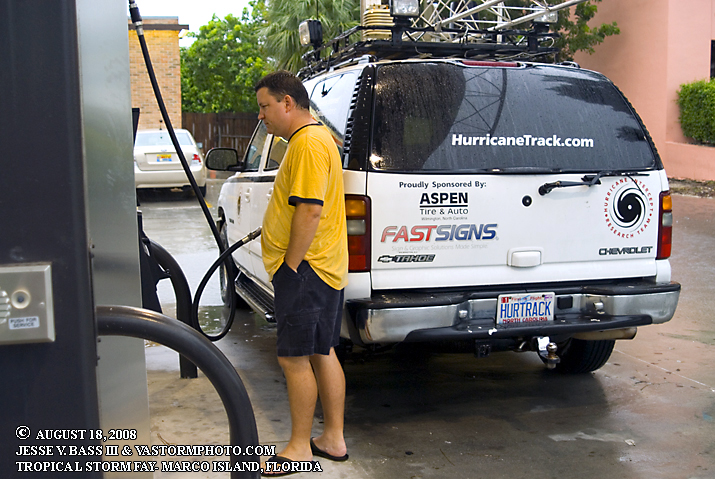 Mark filling up before things get rolled up in Marco Island.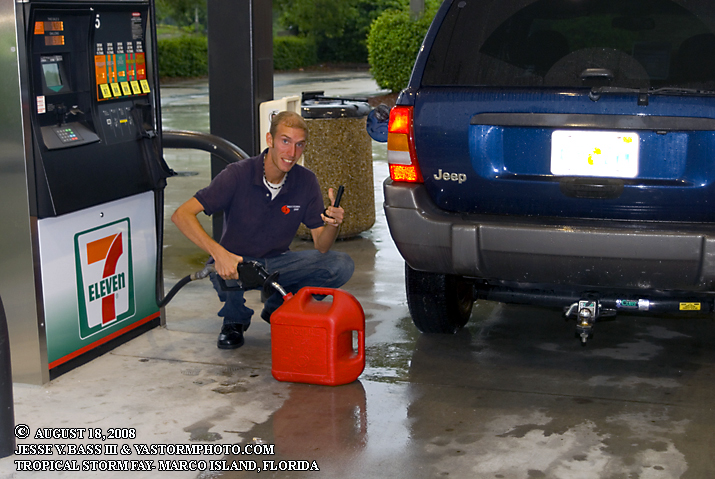 Friend Tim Millar filling up a gas can for extra gas incase power was out in the area after Fay.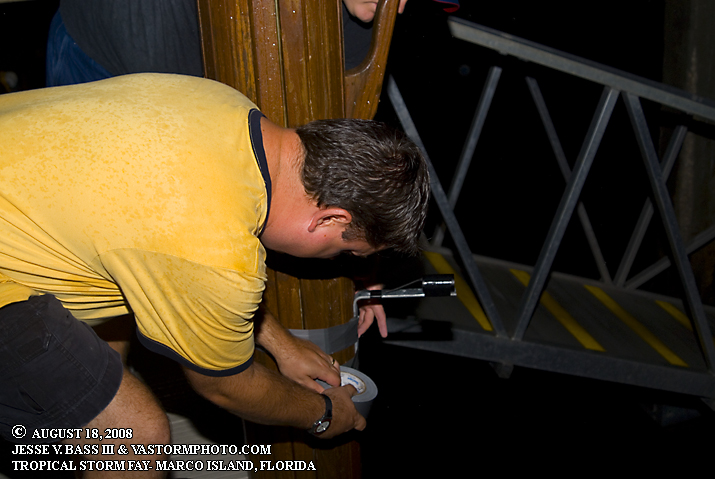 Mark and Mike at the Caxambas Boat Ramp on Marco Island placing a camera to the dock to stream back live video to the website.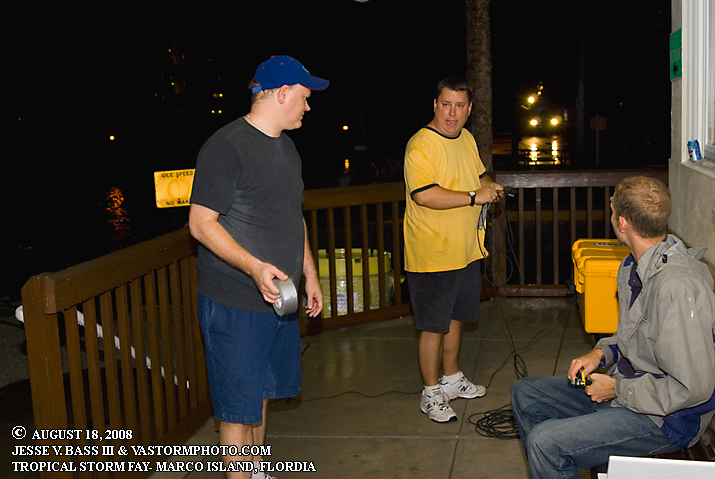 Clowning around before placing another camera to stream to the website.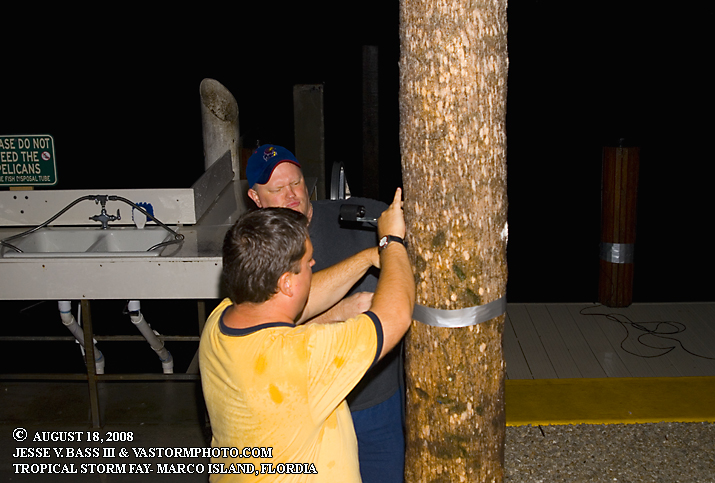 Mike Watkins looking very serious as he and Mark place the second cam to record and stream video at the Caxambas Boat Ramp.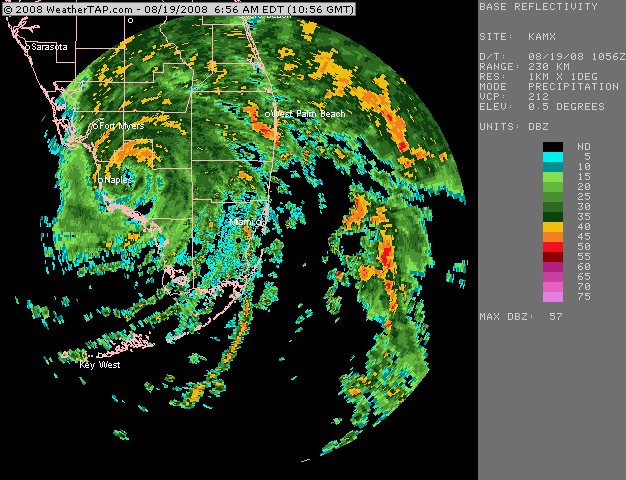 Fay after landfall near Marco Island looking like a hurricane moving inland.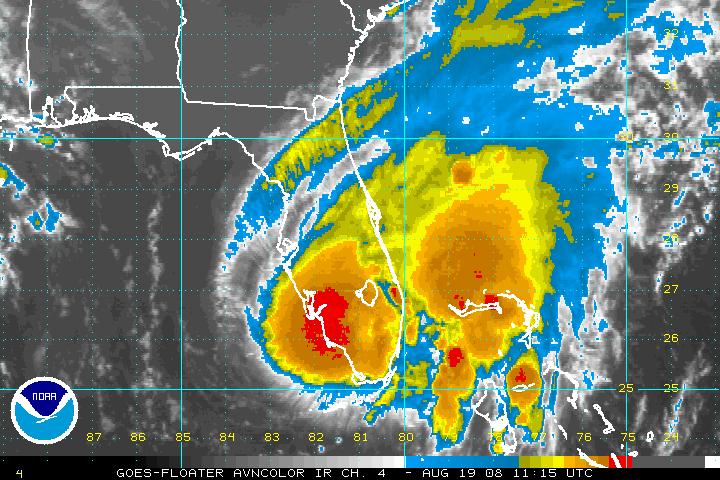 A satellite shot of Fay over Florida looking very impressive when she should have been weakening.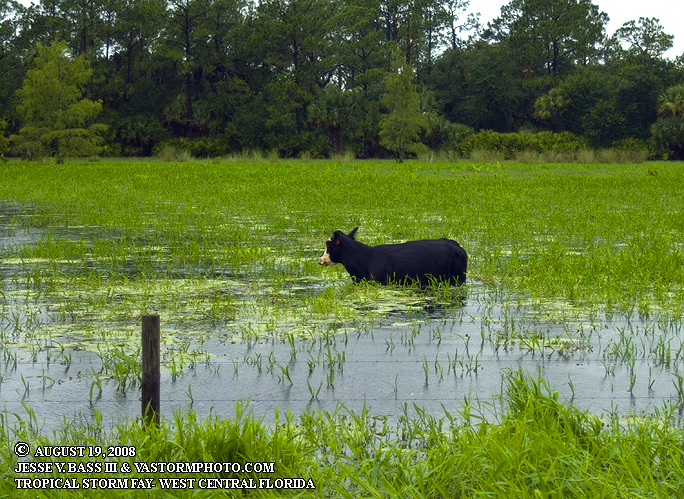 Cow grazing in flood waters in west central Florida.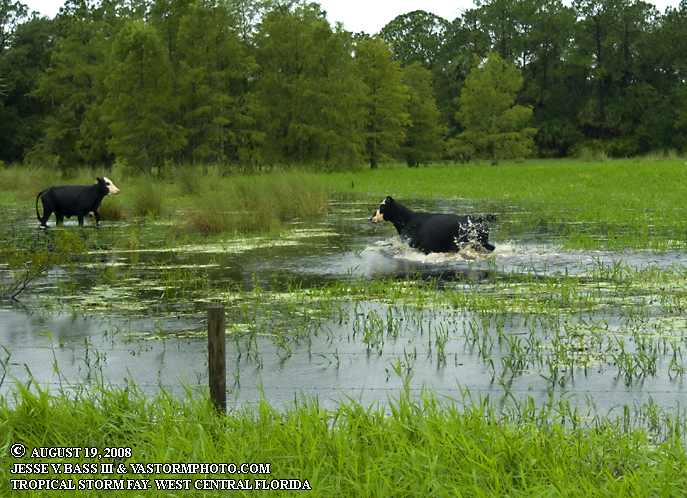 Must have spooked him. He ran to dryer land with the smarter cows!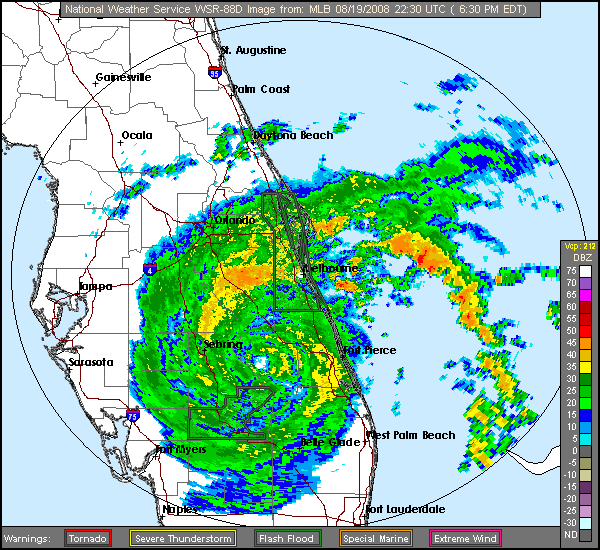 Fay at 6:30pm over Florida looking more impressive than ever.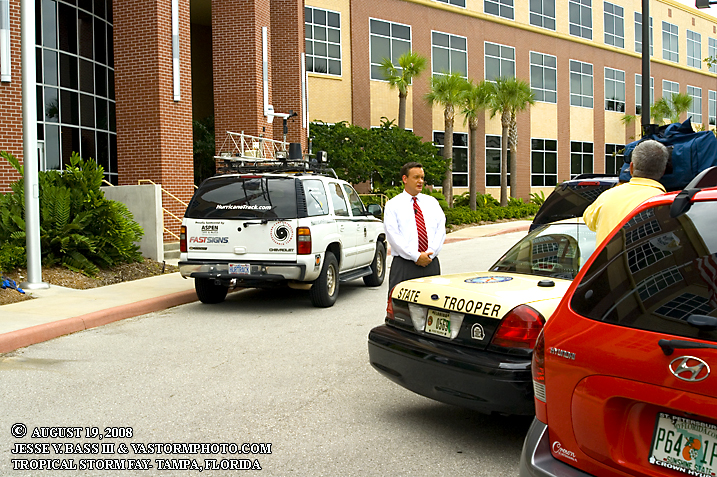 Meteorologist Mike Clay for Bay 9 News outside the studio.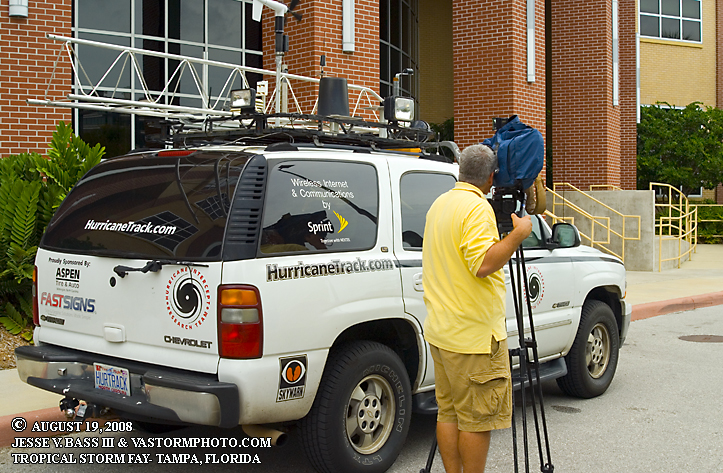 Filming the hurricane decals on the doors of all the hurricanes and tropical storms the Tahoe has been in.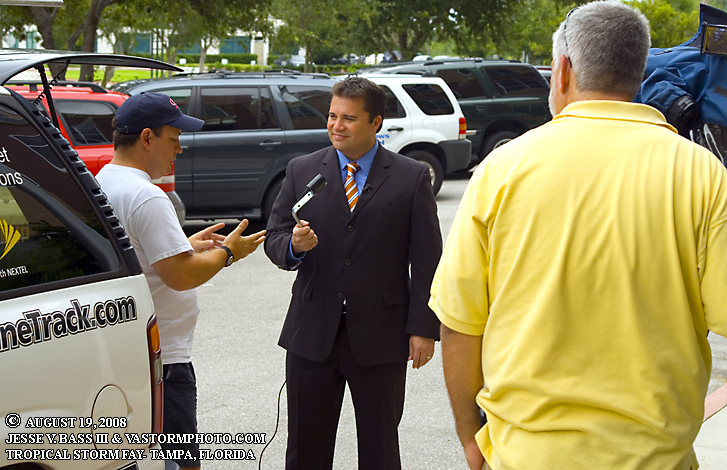 Josh Rojas talking to Mark about the cameras and their function when placed out in a hurricane.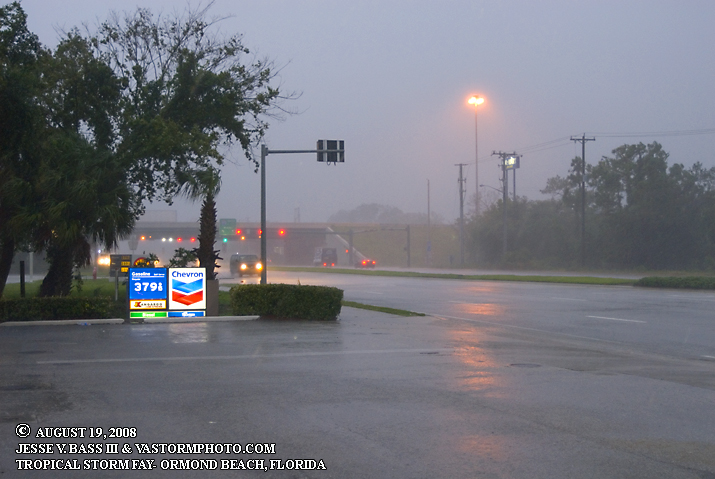 Wednesday evening near Ormond Beach as a very heavy rain band moved in as we were getting gas.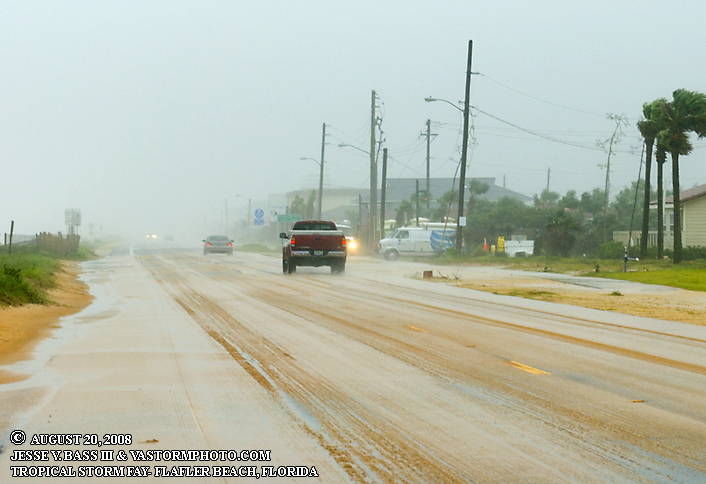 Thursday morning near Flagler Beach as Fay was slowly making her way to Flagler for her third landfall. Winds gusting to 65mph.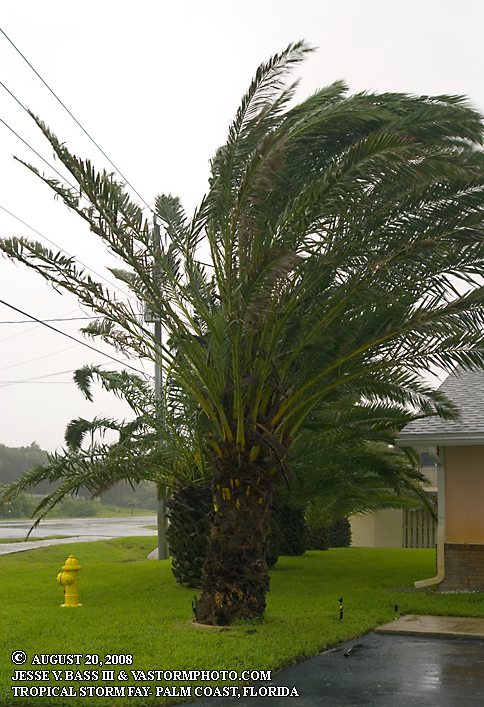 Palm whipping in the wind near Palm Coast, Florida.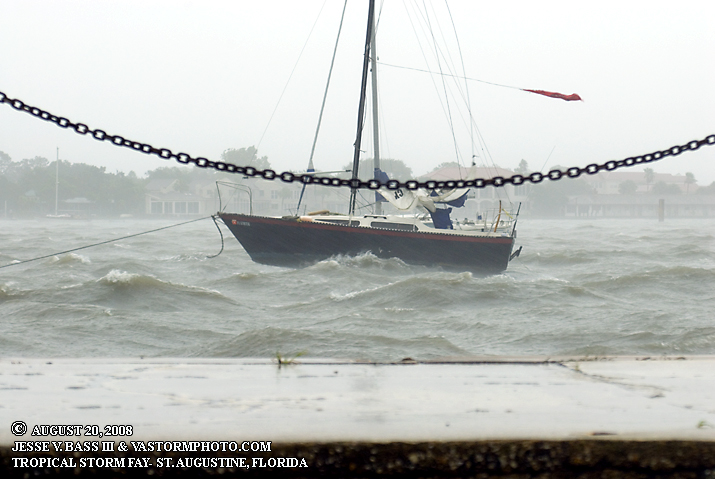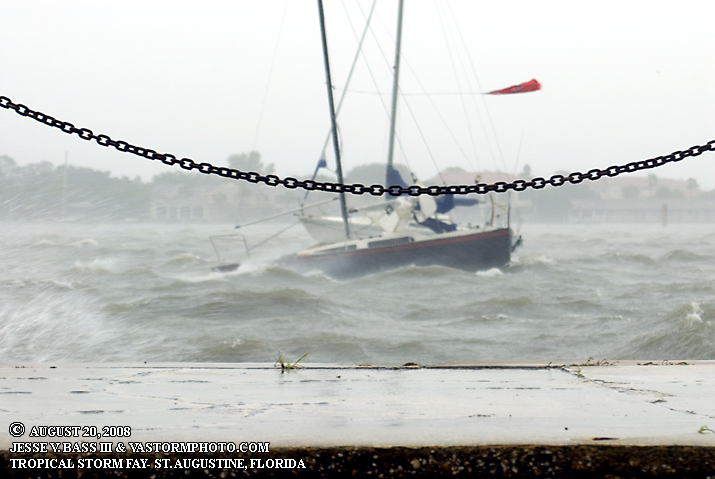 This sailboat was anchored in the harbor for this very reason. If it was in dock, it would have been beaten and battered by the dock as the wind and waves moved into St. Augustine, Florida.
Fay may not have been a major storm but she was a major pain in the neck for many Floridians. Her slow movement caused flooding rains all across Florida. Power outages were widespread as well. Things could have been much worse, but thankfully they were not. Several people have made the statement that this was a dud and that the NHC blew things out of proportion. Ask the folks who are now dealing with the flooding and the few who did loose loved ones to the storm if it was a dud. At least 12 people lost their lives in the U.S. and four counties have been declared major disaster areas. Although, Fay was not all bad. She helped to ease or erase drought conditions that have been in place over the state for many months. She is also bringing beneficial rains to areas of the south that have been suffering from drought conditions as well. Alabama, Mississippi and Georgia in the short term, but she is expected to move through the southeast and possible bring some relief to South Carolina, North Carolina and Virginia in the long term.
All Images Copyright Jesse V. Bass III and VaStormphoto.com
Copyright 2008 All Rights Reserved